March 14 - 15, 2014 - Indianapolis, Indiana
32nd Annual Indianapolis Fishing Tackle Show
NFLCC Region 5 Show

March 14, 2014 - 5:00 PM - 10:00 PM
Registration, Room Trading and Auction

March 15, 2014 - 8:00 AM - 1:00 PM
Tackle Show & Silent Auction

Clarion Hotel & Conference Center
2930 Waterfront Pkwy. West Drive
Indianapolis, IN 46214 Ph. (317) 299-8400

Contact show host Carl Schaum for additional information
cschaum@roadrunner.com or phone (812) 273-4749

Click here for show flyer and registration form
---
March 22,
2014 - McHenry, Illinois

6th ANNUAL ISLAND LAKE VINTAGE LURE SHOW
Saturday, March 22nd 2014

Zion Lutheran Church
4206 West Elm St
McHenry, Il 60050

8:00AM - 12:00PM

FREE APPRAISALS Come to buy, sell or trade your lures, rods and reels. Equipment need not be old to be valuable.Bring your tackle box! Last years show was a hit, so don`t miss out!
General Admission: $3 Refreshments available Forty 8` tables are available @ $20 each or 2 for $35
DEALER SET UP @ 6 AM
All funds donated directly to the Church Youth for missions work trip
For more info, contact Jim @ 847-767-9768 Jitterbug69@comcast.net
---
March 22 , 2014 - Lockport, NY
Antique Fishing Tackle Show
The Lockport NY Ice-Breaker

Saturday, March 22, 2014
11am - 2PM

Elk's Lodge
6791 Canal Rd
Lockport, NY 14094

This is NY's longest running tackle show in the same location! 25 years?
Always some good people and great tackle.

Contact Dan Bedford for more information
(716) 433-5413 or cell (716) 713-9410
email: wdanfran@aol.com
---
April 3-6, 2014 - Oberlin, Ohio
Holy Mackeral
Fishing Tackle Flea Market of the Yea4 2014

Thousands of rods, reels, lures and miscellaneous tackle.
Free parking and no admission fee.
Thursday April, 3rd - Sunday, April 6th

Click here for complete event flyer
---
April 4-5, 2014 - Kelso, Washington
NFLCC REGION 9 SPRING SHOW
FRIDAY APRIL 4th & SAT. APRIL 5th, 2014
KELSO RED LION HOTEL/I-5 EXIT 39
KELSO,WASHINGTON
Monte and I would like to welcome you to the 29th consecutive NFLCC Show at the Red Lion Hotel in Kelso,WA. Monte Martinsen has negotiated with the Hotel a room rate of $68.95 per night for standard rooms and $73.95 per night for Deluxe Rooms. We have a block of 60 rooms that will be available to us at the reduced rate for reservations made by March 28th, 2014. Also, at this show we will have a meeting room in the North Wing set aside for members that have rooms in the South Wing to use to sell or trade. This Meeting Room will have tables available for free to use on Thursday and Friday for the room trading. Please be sure and mention the NFLCC or Lure Meet when you are making your reservations to insure that you receive the reduced room rate. The phone number for the Hotel is 360-636-4400. Per usual, the Show date is the first Saturday in April and November . We look forward to seeing you at the future meets. The Show Hours will be on Sat. 7:30 AM until 2:00 PM in the Ballroom . All registered show attendees and table holders are welcome into the Ballroom at 7:30 AM Saturday morning. The public is welcome to attend this show at 9:00AM for a fee of $5.00 [one day membership in the NFLCC]. The cost of registration is $10.00 for members and $10.00 for their guests [spouses and children are free]. Show tables are $15.00 each with a limit of three. It is highly recommended to register EARLY as the tables have sold out in past shows. Monte and the hotel staff have reconfigured the ballroom to accommodate all tableholders in the Main Ball Room . PLEASE MAKE ALL CHECKS PAYABLE TO MONTE MARTINSEN. Monte's address is: Monte Martinsen, 7380 Old Pacific Highway N., Castle Rock, WA 98611. Monte's phone number is 360-274-8045. We will have tables for display purposes if possible . Free Coffee, Soft Drinks, and Donuts will be available in the Ballroom Saturday morning. Also, for Regional NFLCC Meets tableholders can have up to 25% of related sporting collectables [excluding firearms] for sale or trade at their tables.

We will have a number of DOOR PRIZES that will be given away at 10:30 AM. The top Two door prizes will be a free nights lodging at the Red Lion. Once again we will have a $25.00 gift certificate from BOB'S SPORTING GOODS in Longview, Wa. Also, put on your calendar the dates of Friday October 31st and Saturday November 1st, 2014 for our Fall Show at this same location. At this Show any member who brings in a New Member [must join at the show] receives free admission to this show. If you have any questions, suggestions, or need additional information, you can contact Monte @ 360-274-8045 or myself at the following address and email: Harvey Musselman. 831 NE 90Th St., Seattle,WA 98115-3039 oldbassman@hotmail.com Phone# 206-526-5814
---
April 11-13, 2014 - Cincinatti, Ohio
36TH ANNUAL SPRING CINCINNATI ANTIQUE FISHING TACKLE SHOW
The annual spring Cincinnati Antique Fishing Tackle Show will be held Thursday April 10th , Friday April 11th , Saturday April 12th ,Sunday April 13th till 11am 2013. The show runs from about Noon Thursday to noon Sunday. Location is the same as past shows at the Super 8 Inn & suites at I-71 & RT. 741 (exit 25) which is a few miles north of I-275 and across I-71 from Kings Island Amusement Park. PETS ALLOWED FOR AN EXTRA $15 FEE!

This is a room to room show all 3 days, with tables available at $5 each. There will be a consignment auction Saturday at 3pm. There are always some great items to bid on.

Attendance fee for sellers is $12.00 per person. Non selling family members are free. Parking lot sales and
Registration $24 for 1-3days. Rates are $59.99 per night + tax payable upon check in. Room reservations must be made with the Inn direct by March 25th. Ask for Mr. Singh after 1:pm Phone. 513-398-8075. If you have any problems with reservations host can not guarantee rooms. Attendees must make their own reservations. Host will assign rooms as in the past March 28th and will try to honor requests where possible. Be sure to mention the CINCINNATI TACKLE SHOW when making reservations. PUBLIC VISITING IS FREE.

This is always a large well attended meet with many local and out of state exhibitors and collectors.
This meet is open to the public. Make plans to attend. You will have lots of fun. Lots of nice old tackle.

Host: John M. Nunn
674 Wards Corner Rd
Loveland, Ohio 45140
Home: 513-583-5880
Cell: 513-310-2424
Email: hitailnunn@cinci.rr.com


Click here for show registration
---
April 12
, 2014 -
Medina, Minnesota
MINNESOTA'S LARGEST!!! 19th ANNUAL
AMERICAN SPORTING COLLECTIBLES SHOW
(200 TABLES AVAILABLE)
Medina Entertainment Center is located at 500 Hwy 55 (Exit off Hwy 494, West on 55 4 ½ miles) 763-478-6661

FEATURING-Lures, Duck Decoys, Spearing Decoys, Hunting Equip, Cabin Decor, Traps, Bobbers, Shell Boxes, Bamboo Rods, Licenses, Sporting Art, Game Calls, Reels, Etc.!

TABLES-will be provided on a prepaid and reserved basis at $35.00 per table. ONE free admittance per table. Please bring table covers if desired, as they WILL NOT be provided.

LODGING-Lodging will be at the Comfort Suites in Plymouth. The hotel is located in the northwest corner of Hwy 494 and Hwy 55. We have been guaranteed 70 rooms at a discounted rate. Call the hotel ASAP and identify yourself as a Sporting Collector. The cut-off date for blocked rooms will be March 10, 2014. Room type can not be guaranteed. Rooms are on a first come, first serve basis. The hotel does have a pool and a restaurant. Call the hotel direct at 763-559-1222.

EXHIBIT AREA-Medina Ballroom. Exhibit area will open at 7:00am for set-up. Doors will open to the public at 9:00am-2:00 Saturday, April 12, 2014. Admission: $5. Early Bird tickets may be purchased for $20. This allows you entrance to the Medina Ballroom at 7:00am.

Contact information: Wally Wegleitner 651-771-8926 E-mail: dollslures@comcast.net or

Tim Spreck 651-439-1110 E-mail: fishdecoy@fishdecoy.net Subject: Sporting Show

Visit us at www.Americansporting.net
---



April 19
, 2014 -
Effingham, Illinois
NFLCC 2014
Central Illinois Lure Meet
Saturday, April 19, 2014 8 am - 2 pm

Knights of Columbus Hall, 1501 W. Fayette
Effingham - exit 159 off I-70

Contact show host Dave Boyer for additional information daveboyer@consolidated.net

Click here for show flyer and registration form
---
April 24 - 26
, 2014 - Temple
, Texas
The 9th Annual Award Winning Region 8
Temple, Texas NFLCC Fishing Lure & Tackle Show
The show begins with room trading on Thursday & Friday at the Best Western Temple Inn & Suites
602 North General Bruce Drive, Temple, Texas. The hotel is conveniently located adjacent to IH 35.
The rooms include free high speed internet, microwave, and refrigerator. A free continental breakfast
is served daily. Mention the NFLCC to receive the discounted rate of $74.99 per night.
The Best Western phone number is 254-742-1122.

**** Please be advised, the hotel is a small two story hotel that fills up quickly !

The show & auction will take place on Saturday April 26th at the Knights of Columbus Hall,
2218 West Avenue D, Temple, Texas. The K of C is a non-smoking facility with a snack bar available.
The doors will be open for Members only from 7:00 am – 8:00 am.
The public will be admitted at 8:00 am, the auction will begin at 10:30 am. (Show ends at 2:00 pm.)
Public Admission: $5 per person, children 12 & under FREE

Contact Show Host Andy Sonnier @ 254-624-3363 for more information or contact Amy Koehler by email amy@lonestarlures.com
---
April 25 - 26
, 2014 -
Little Rock, Arkansas
Little Rock's 5th Annual Collectible Tackle Show (and Swap Meet) At the Lake DeGray Resort

Friday, April 25 and Saturday, April 26, 2014



Sponsored by Tackle Collectors of Arkansas (TCA). HOST: Ken Scott


Co Hosts: Dave Stalnaker, Tommy Holmes, BV Daniel, Don Evans, John Corley, Don Brader, Ray Rodgers, Mike Westbrook

Yes, the show has been moved

from Downtown Little Rock one hour away down I-30 to the beautiful Lake DeGray Resort, and 20 miles down the road from Hot Springs. This beautiful 13,800 lake and Arkansas State Park and Resort is best viewed for all of its "too many to list" amenities online at

www.degray.com

. But briefly, in addition to our tackle show you can: Golf on their 18 hole 7,100 yard beautiful/scenic course, fish, snorkel or scuba dive, swim (in lake or heated outdoor pool), hot tub, play tennis, horse back ride, hike, bike, camp, use the full service marina (bring your own boat or rent: fish, ski, canoe, party barge, houseboat, personal water craft), and use the full service restaurant overlooking the lake.

Fees: Registration is $10 per family, any other guest is $5 for a one day membership. Showroom tables are only $10 for a six foot table. Registration on Friday is from 4:00 p.m. until 7:00 p.m. and includes free beverages and snacks. A very reasonable room rate in the lodge at this outstanding resort is set by Arkansas State Parks at $95. You need to BOOK EARLY, this is a resort and will almost certainly sell out and our block of rooms is only guaranteed until March 26, 2014. You can begin making your room reservation now by calling 1-800-737-8355, mention group number #1386078.

DETAILS:

Room trade on Friday from whenever you get here until you close your door. Show is on Saturday with set up at 7:00 a.m. Show opens at 8:00 a.m. and ends at 2:00 p.m. Call or email Ken Scott for more details: email at:

kscott@aristotle.net

and phone at: 501-680-8412. Mail your check and registration form to Ken Scott, 10833 Rivercrest Drive, Little Rock, AR 72212.
---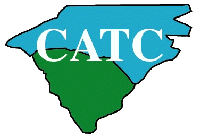 May 16 - 18 , 2014 - Savannah, Georgia
CATC Spring Show

The CATC Spring 2014 Antique Fishing Tackle Show
will be held at:
Holiday Inn Express Hotel & Suites
17 Gateway Blvd East
Savannah, Georgia
(912) 925-2700
Exit 94 on I-95


Click here for show flyer and registration form
---



May 17- 18 , 2014
Lang's Auction
May 17 & 18, 2014 Auction of
Antique & Classic Fishing Tackle & Accessories
Lang's bi-annual auctions are the world's premier fishing tackle related events. Each auction includes upwards of 2,000 lots of quality antiques and collectibles in every category related to fishing as well as other outdoor sporting categories. If you've never participated in a Lang's Auction, we invite you to join us this spring.

Visit the website for additional information: http://www.langsauction.com/Auction.html
---


June 6-8 , 2014 - Punta Gorda, Florida
FATC Summer Show
First show in this area in 13 years!
Members From: F.A.T.C., O.R.C.A., C.A.T.C., & N.F.L.C.C. are all invited to participate in this show
SHOW LOCATION: Punta Gorda Waterfront Hotels and Suites, Punta Gorda, FL. You can see an overview of Punta Gorda at: http://Youtu.be/5TrXu726ZpE

Dates: Room trading is on Thursday, June 5th. Tthe show is Friday, June 6th & Saturday, June 7th. Break down is Sunday, June 8th and the show area is cleared by 12 noon.

ACCOMMODATIONS: Punta Gorda Waterfront Hotels and Suites 941-639-1165. FATC Room Rates, at $67.50 per night. Waterfront rooms are on a first come, first serve reservation basis!

TABLE AND REGISTRATION: Registration is $ 15.00 per member.
8 ft. tables, $ 35.00 each, wall or aisle. Membership dues must be current to register.
ORCA, CATC, NFLCC, & All Club Members: Registration Fee $15.00
Visit the FATC Website for show flyer and registration
---
July 10 - 12 , 2014 - Fort Wayne, Indiana
2014 NFLCC NATIONAL SHOW & MEETING
FORT WAYNE, IN. – JULY 10th, 11th &12th, 2014

SHOW HOSTS: David Saalfrank and Bob King
Location: Grand Wayne Convention Center 120 West Jefferson Blvd.
The host hotel is the "Hilton Fort Wayne at the Grand Wayne Center", which is attached to the convention center. There are 200 rooms blocked at this hotel. The back up hotel is the "Courtyard by Marriot-Fort Wayne Downtown at Grand Wayne Convention Center" 1150 South Harrison St. and is connected to the convention center by an overhead walkway, and there are 100 rooms blocked at this hotel. Booth hotels have more rooms available for the NFLCC show. Rates at Hilton Hotel are $99.00, Courtyard $102.00, + applicable taxes (1 to 4 people) with children 18 and under staying free with parents in the same room. This rate applies from the Sunday prior to the show to the Saturday night of the show. Suites are offered at a $20 more, if available. When reserving your rooms please refer to "National Fishing Lure Collectors Club" block to get the club rate, remember that you need to register for the show to get these rates. Additional registration and hotel information is available at http://home.comcast.net/~bbk4/site/?/home/ Reservations need to be made by 3:00 PM on June 24 in order to assure the club rate and block of rooms. Please make your reservations promptly.
Fort Wayne Hilton Courtyard by Marriott
1020 S. Calhoun St. 1150 S, Harrison St.
Fort Wayne, In. 46802 Fort Wayne, In. 46802
Phone 260-420-1100 Phone 260-490-3629
1-800-445-8667 1-866-704-6163
MEET RESTRICTIONS: You must be a member in good standing with the NFLCC, meaning all dues paid through June 2015. At least 75% of total display must be FISHING TACKLE related. No firearms POSITIVELY NO EXCEPTIONS!

REGISTRATION & TABLES: Advance registration is $25.00 per member including spouse (significant other) and minor children. Each paid member is allowed to bring one (1) non guest (providing the guest has never been a member of the NFLCC) free of charge. Additional guests must purchase a membership and registration. Pre registration will close on July, 4th, 2014. Confirmation of registration, if requested, will be by email or phone at your preference. Registration at the door will be $35.00 per member so register early. Table Registration is $25.00 per 8 foot table. $15.00 per table for special collection exhibit (max of 2 at this rate per member). We have a limited number of exhibit tables, and free space for youth exhibits. Row end tables (8ft + a 6ft) are on a first come basis for $50.00. Members wanting next to each other must send their separate table registration forms and checks in the same envelope. All tables are on a first come basis. No refunds allowed after June 27, 2014.
DO NOT SEND dues with registration, send them to NFLCC Secretary.
Below is a list of "possible" events that will be made available for the spouse and children attending the Nationals too try and get the show back to a family event. If you would participate in any of these event or have questions please contact Bob King at 260-403-5391 or email at bbk4@hotmail.com so we can get an idea on what we need to set up and on what scale.

1. Auburn-Cord-Duesenburg Museum$. 2.Children's Zoo$ 3. DeBrand Fine Chocolates factory tour$ 4. Jefferson Pointe Shopping Center trip 5. Botanical Gardens, which is next to the hotels $. Also see the list of other activities available to you at FortWayneActivities http://home.comcast.net/~bbk4/site/?/home/

As always we can use more volunteers for helping with show functions. If you would like to become a volunteer, please contact David Saalfrank at 260-622-7107 or davidasaalfrank@gmail.com

Contact Bob King at bbk4@hotmail.com or David Saalfrank at davidasaalfrank@gmail.com for show flyer & registration form




---



August 8-9 , 2014 - Bouckville, NY
Lang's 2014 Outdoor Sporting Show

Cider House Showfield - Rt. 20, Bouckville, NY
FREE Dealer Booths! FREE Public Admission! FREE Dealer Parking!

Lang's show kicks off an incredible 10 day multi-show event in the heart of central New York's Antiques Community. Madison-Bouckville Antique Week has grown over the past 40 years into a major event, touting many individual shows, each opening on different days, and culminating with a huge open air antiques & collectibles show. It is estimated over 40,000 dealers, collectors and retail buyers attend this event each year.

The show will coincide with Lang's Discovery Auction as in years past. The pairing of these great events will afford dealers and collectors two great venues to buy and sell, reconnect with old friends and forge new business and personal acquaintances. And now with FREE DEALER BOOTHS!

Click here for additional information


---





October 31 - November 2 , 2014 - Palatka, Florida
FATC Fall Show

FALL ANTIQUE TACKLE SHOW

October 31 - November 2, 2014

Hosted by Crystal Cove Marina & Resort

on the beautiful St. Johns River in Palatka, FL

.

Waterfront rooms are $69 plus tax, non-waterfront rooms are $59 plus tax.

There are 24 rooms in the main building, 55 in an adjacent building, so reserve early by calling Crystal Cove Reservations (386-325-1055)

or visit their website www.cc-resort.com.


Number of tables will be limited, so register early!