September 10-13 , 2015 - Cincinnati, Ohio
39th ANNUAL FALL CINCINNATI ANTIQUE FISHING TACKLE SHOW
The annual fall Cincinnati Antique Fishing Tackle Show will be held Thursday Sept.10th, Friday Sept. 11th, Saturday Sept. 12th , Sunday Sept. 13th , till 11am 2015. The show runs from about Noon Thursday to noon Sunday. Location is the same as past shows at the Super 8 Inn & suites at I-71 & RT. 741 (exit 25) which is a few miles north of I-275 and across I-71 from Kings Island Amusement Park. PETS ALLOWED FOR AN EXTRA $15 FEE.
This a room to room show all 3 days, with tables available at $5 each. There will be a consignment auction Saturday at 3pm. There are always some great items to bid on.
Attendance fee for sellers is $12.00 per person. Non selling family members are free. Parking lot space &
Registration $24 for 1-3days. Rates are $59.99 per night + tax payable upon check in. Room reservations must be made with the Inn direct by Sept. 1st. Ask for Mr. Singh. Mon, Tue, Wed. Phone 513-398-8075. If you have any problems with reservations host can not guarantee rooms. Attendees must make their own reservations. Host will assign rooms as in the past Sept. 1st and will try to honor requests where possible. Be sure to mention the CINCINNATI TACKLE SHOW when making reservations. CHECK WITH CLERK ABOUT EARLY CHECK OUT OR CANCELLATIONS! PUBLIC VISITING IS FREE.
This is always a large well attended meet with many local and out of state exhibitors and collectors.
This meet is open to the public. Make plans to attend. You will have lots of fun. Lots of nice old tackle.

Host: John M. Nunn Home 513-583-5880
674 Wards Corner Rd Cell 513-310-2424
Loveland, Ohio 45140
Email hitailnunn@cinci.rr.com

This meet will be advertised!

Click Here For Registration
---
September 11-12, 2015 - Sonora, California
Fishing Tackle, Duck Decoy
Sporting Collectible Show
Buy . Sell . Trade
Old and new fishing tackle, reels, creels, rods, lures,duck decoys, duck calls, wildlife art, books, etc,

Motherlode Fairgrounds
220 Southgate Dr.
Sonora, California 95370

Contact Bert Kronnick for additional information
Email: oldfishingreels@aol.com
---
September 25-26, 2015 - Decatur, Alabama
2015 Region #3 Fall Show
The show dates for the 20th Annual Region 3 Show are September 25th and 26th, 2015 at the Double Tree Decatur Riverfront Hotel, Decatur, Alabama.

The NFLCC room rates are $89 for a double or king and $109 for a suite for Thursday 24th, Friday 25th, and Saturday 26th. Reservations may be made by calling 256-355-3150 after July 1st. Those making reservations should mention the NFLCC show.

The show is a yearly sellout and is almost full with nearly 100 tables reserved so far. Tables are $25.00 each. Registration will be $10.00. We will make every effort to accommodate all members interested in purchasing tables, but remember the availability of additional space for tables is limited. If you want a table you better reserve it soon!

Send Registration payable to: Fred Vengrouskie
4010 Saddlehorn Bend SW
Decatur, AL 35603
Please email me at fven@charter.net or call Fred Vengrouskie at (256) 348-2336 with any questions concerning the show.
---
October 3, 2015 - Hagerstown, Maryland
NFLCC Antietam Creek Tackle Show
Region II presents the 2nd Annual Antietam Tackle Show
To be held at the Best Western Grand Venice Hotel located

:
431 Dual Hwy, Hagerstown, MD 21740
Room trading to be held on Thursday, Oct. 1st and Friday, Oct. 2nd. The show hours for Saturday, Oct. 3rd are 7:00AM – 1:00PM, but we'll have the doors open as early as 6:00AM for set up.
Registration is only $5 if you're getting a table.
Registration is $5 if you wait until after 8:30AM to enter.
The general public/ non-members will be invited to attend the show starting at 9:00AM. upon purchase of a temporary one-day club membership for $5.00.
Registration for those who don't get a table, but want to enter at 0700 is $20 (early buyers).
To reserve tables or pre-register for the show, contact:
Riegelsville, PA 18077-9724
---

October 9 - 10, 2015 - Albany, NY
NFLCC Region 1 & 2
3rd Annual Northeast Regional Tackle Show
Best Western Sovereign Hotel - Albany, NY
Location: 1228 Western Ave
Albany, NY 12203
Phone: 518-489-2981
Website: www.bwsovereign.com

Show Hosts:
Craig Comjean
978-263-0381
Les Ozimkowski
516-297-0022
Click here for show flyer and registration form
---

October 9 - 11 , 2015 - Nakomis / Osprey, Florida
FATC Fall Antique Tackle Show

Fri & Sat 8am-5pm
Sun 8am-12pm
SHOW LOCATION: Bentley's Hotel - 1660 S. Tamiami Trail, Osprey, FL 34229

Additional information available on FATC website

Click Here For Show Flyer
---
October 10 , 2015 - Baraboo, Wisconsin
Wisconsin Dells Show
28th Annual Region #6 show
Saturday October 10th, 2015
Show hours: 7:30 am set-up for members. 8:30am for public
Show ends at 2pm
Locatio; Ho-Chunk Convention Center and Hotel
S3214 US Highway 12
Baraboo, WI, 53913
Phone; 608-355-1500 or 800-446-5550
Be sure to mention NFLCC to receive show rate
Tables are $25 each
---
October 17, 2015 - Mountain Home, Arkansas
12th Annual
Arkansas Twin Lakes
Antique Fishing Tackle Swap & Show
Saturday, October 17, 2015 7:30 A.M.
Ramada Inn at 1127 NE Hwy 62 in Mountain Home, AR
Special room rate is $69.00+Tax
Make reservations early by calling 870-425-9191
This area has lots of people that are retired and the show is highly advertised, so lots of tackle comes in off the street.
There will be a huge assortment of old lures, reels, rods and other fishing related items. Tackle collectors from all over the south attend and bring loads of goodies to sell, trade or just to show off! Come early on Saturday morning as many of the traders go home by noon to watch the Hogs play on TV!
There will be free appraisals available on site and several auctions during the day as needed.
General admission is only $3.00. Table rentals are $15.00 each.
Room trading will be on Friday night, Oct. 16!!
For more information call: Jerry McCoy 870-405-9238 or 870-481-5199

---
October 24, 2015 - Ft. Wayne, Indiana
Region 5 NFLCC Lure Show

Oct. 24 Ft. Wayne
Don Hall's Guest House 1313 W. Washington Ctr. Rd.
Exit 311 Interstate 69
Phone 260-489-2525 or 1-800-348-1999
Show hours 7:00 am. To 1:00 pm.
Set up for table exhibitors 6:00 am.
NFLCC Members enter 7:00 am. Public enters 8:00 am.
Table rental is $25.00
Entry fee is $5.00, includes spouse and immediate family under 18.
Room rates are $85.00 for standard room 2 double beds. This rate includes 2 breakfast buffets. If guest would like to get breakfast & dinner special: contact the hotel for special rates.The restaurant is one of the best in the area.
For more information
David Saalfrank 260-622-7107 email davidasaalfrank@gmail.com
Bob King 260-622-4829 email bbk4@hotmail.com
Table reservations send money to David Saalfrank 1013 e 900 n. Ossian, In. 46777
---
November 6 - 7 , 2015 - Kelso, Washington
NFLCC Region 9 Fall Show
Kelso Red Lion Hotel
I-5 Exit 39
Kelso, Washington

Contact Harvey Musselman for additional information: oldbassman@hotmail.com
Click here for show flyer & registration form
---
November 12 - 14, 2015 - Bakersfield, California
NFLCC Region 10 Vintage Fishing Tackle Show
The NFLCC Region 10 Vintage Fishing Tackle Show will be held in the main ballroom of the Hotel Rosedale in Bakersfield. This will be a one day show on Saturday, November 14, 2015 with room trading Thursday, November 12 and Friday, November 13. Show hours are from 8 a.m.- 2 p.m. The general public/ non-members will be invited to attend the show starting at 9 a.m. upon purchase of a temporary one-day club membership of $5.00. Items arriving at the show for appraisal and sale by the general public will be sold at auction to all present. Club Shop items will be available for sale during the show on Saturday. Up to 25% of table holders items for sale or display can be sporting collectibles not fishing related. No firearms please.

Show registration is $10 for each club member attending with family members free. Table fee is $25 each. Please submit your registration and table fees no later than October 29, 2015. Make checks/ M.O. payable to: Glen Brewton, 5724 Carter Ave, Bakersfield, CA, 93308

The Hotel Rosedale is located at 2400 Camino Del Rio Court, 1 block West of the junction of Freeway 99 & Highway 58, (Rosedale Hwy Exit). The hotel provides a complimentary continental breakfast buffet. The hotel has a full service bar & grill and there are several nice restaurants within walking distance. Transportation will be provided by show volunteers to and from Meadows Field Airport, located about 5 miles from the hotel. Room rates are $75, plus $3.50 resort fee & 12% occupancy tax per night. Mention NFLCC tackle show for special room rates. For room reservations call 661-327-0681. There is also a full service R.V. park adjacent to the hotel. Contact show hosts for details.

Show hosts are:
Glen Brewton, 661-399-1580, grmpypp@yahoo.com
Tony Allegra, 661-618-5259, Fishingfinds1@gmail.com
Click here for show flyer and registration form
---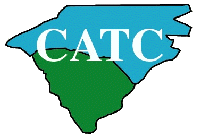 November 20 - 22, 2015 - Myrtle Beach, South Carolina
CATC Fall Show

The CATC 2015 Fall Show will be held at:
Springmaid Resort & Conference Center
3200 South Ocean Boulevard
Myrtle Beach, SC 29577
Toll Free (866) 764-8501

Click here for show flyer and registration form
---
January 8 - 9, 2016 - Pigeon Forge, Tennessee
Pigeon Forge Region 3 Winterfest
The 2016 Region 3 Winterfest will be held at the Ramada Inn Smoky Mountain Convention Center in Pigeon Forge, TN on Jan. 8th and 9th 2016.

Room rates are $54 double occupancy and reservations can be made by calling 1-800-523-3919. Your hosts again this year are Gibby Gibson & Harold Smith.

8 ft. tables are available for $25 with a $10 show registration. Tables can be reserved by sending payment to Gibby Gibson who can be contacted at 615-449-5431 or oag111@comcast.net.

Again, this show was chosen as the best 2 day NFLCC region show for 2015. This 200 plus table show will be the 27th consecutive year and is a annual sellout. Great venue, great room rate, great eateries, great folks, and lots to do for the entire family at the base of the Smoky mountains. Come join the "reunion in the mountains" and I promise you be glad you did. Room trading Wed./Thurs. ...Thurs. evening show set-up and Show Fri./Sat.
---
January 15 - 16, 2016 - Milwaukee, Wisconsin
THE GREAT MILWAUKEE CLASSIC
Our annual Region #6 "Mini National" will take place on Friday and Saturday, January 15th and 16th , 2016. Table set-up is 8am on both Friday and Saturday. Public is allowed into the show rooms at 11am on Friday and 9am on Saturday.
Host Hotel:

SHERATON MILWAUKEE BROOKFIELD
375 S. MOORLAND ROAD
BROOKFIELD, WI
Phone: 262-364-1100
Reservations must be made by January 8th, 2016. Be sure to mention the NFLCC when making your reservation.
Tables:
Tables are $25 each. This includes your registration. Registration only is $5 per person.
Please contact John Collen to check on availability and to pay for tables. Checks should be made out to John Collen and sent to: 2707 Shamrock Drive, Racine, WI 53406
Show Hosts:
John Collen, 262-632-4735 or email at jcollen1@att.net
Chris Slusar, 262-960-2230 or email at cjslusar@gmail.com
Please reach out to John or Chris with any questions.
---
February 6, 2016 - Carthage, Missouri
The 29th Annual
CARTHAGE SHOW
The Ozark's NFLCC Vintage Lure and Tackle Meet
February 6, 2016
*****NEW LOCATION *****
Fairview Christian Church - Community Center
2320 S. Grand Ave. Carthage, MO
Show Hosts: Duane and Carole Neumeyer
Co-Hosts: Casey Jones and Bill Bates

The 28th annual Carthage Show will be held on Saturday February 6, 2016 starting at 7:00 am, at a new location. The venue, listed above is bigger, brighter and gives us room to expand for the future. It is on the south side of Carthage, yet easy to find and maps will be provided. The public is invited to bring in tackle for identification and appraisal from 9:00 to 11:00. The host hotel is the same. Room trading will be on Friday the 5th at the Econolodge Hotel 1441 W. Central in Carthage, phone (417) 358-3900. We also plan to have a hospitality room set up at the hotel around 4:00 pm on Friday.

Hotel Reservations: Our host hotel is the same, the Econolodge Carthage 1441 W. Central, phone (417) 358-3900. The room rate is $51.99 for either two full beds or a single king bed. Please, inform them that you are attending the NFLCC show.

Registration: Show registration is $10.00

Tables: All tables are $20.00 each. This change is necessary because we now will have to rent a number of them. A space will be provided for displays of collections but please let us know the size (width) of your displays so that we can plan. Make checks for registration and tables payable to Bill Bates and send to 1445 S. Forrest Heights, Springfield, MO 65809. Bill can be contacted at (417) 887-0145 or by email at 149pcs@mchsi.com for questions about tables and registrations. If you have special requests about table location, forward that to Bill as well.

Contact Information: Please, let us know your questions or suggestions about the show. Show hosts, Duane and Carole Neumeyer can be contacted at (417) 674-1834, or Casey Jones at (417) 276-1812. Bill Bates can be contacted as noted above.
---

February 26 - 28, 2016 - Daytona Beach, Florida

"The 25th Florida International Tackle Show"
Return for the SUN,
Return for the FUN,
Return for the ANTIQUE FISHING TACKLE!
The F.A.T.C. "Florida International" will again be back to the Plaza Resort and Spa on the beach in Daytona Beach.
Join antique fishing tackle collectors from around the world for America's second largest show. Join us for over 300 tables of antique lures, reels, rods, creels, fish decoys and much more including our Saturday Night Auction.
Here is your chance to escape the frigid north, and enjoy the warm tropical breezes and watch the waves roll up on the beach while buying and selling old fishing tackle.
Truly tackle trading in PARADISE!
The Plaza Resort and Spa is located right on the Atlantic Ocean and has two restaurants, a small convenience store, a very large pool facing the ocean, and dozens of great restaurants within walking distance. Orlando and its many theme parks are only an hour away.
Additional information available on FATC website
Click here for show flyer