Marsh Makes Better Baits
Johnny Marsh was exposed to lure making at a fairly young age. He was only 23 years old in 1937 when he worked for the Dixie Bait Company in Daytona Beach, Florida. Marsh later worked for Dick Porter and The Porter Bait Company.
Johnny Marsh began making his own baits sometime around 1950. His first lures were pier baits. Also called clothes pin lures, they were heavily weighted wooden lures made for salt water fishing. Marsh soon began making lures from plastic and developed a mold for plastic pier baits as shown on this point of sale card.

Marsh pier baits were made in lots of different colors. There are probably many more than the ones seen here.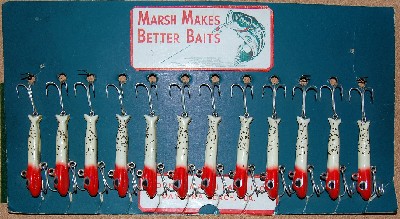 The Johnny Marsh Clothes Pin Lure